The Center for the Book in the Library of Congress invites people of all ages to discover the fascinating people, places and events that await you whenever you read.
National Ambassador for Young People's Literature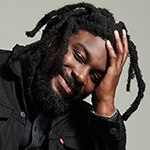 Jason Reynolds, the 2020-21 National Ambassador for Young People's Literature, is the seventh writer to hold this position, which is co-sponsored by the Library of Congress, the Children's Book Council and Every Child a Reader, with additional support from Dollar General Literacy Foundation. Reynolds' platform for his two-year term is "GRAB THE MIC: Tell Your Story."
Photo by James J. Reddington.
Read more
Booklists
Read.gov presents a sampling of suggested books that will spark the imagination and transport readers to new and exciting places. Look for these books in your local library. The books supplement the online resources in the American Memory website. Following each list is a link to the corresponding online resources. 
Other booklists from the Library of Congress include:
U.S. Presidents
Collins, Mary. "Mount Vernon." Children's Press, 1997.
Blumberg, Rhoda. "What's the Deal? Jefferson, Napoleon, and the Louisiana Purchase."National Geographic Society, 1998.
Freedman, Russell. "Lincoln: A Photobiography." Clarion Books, 1987.
Sports
Robinson, Sharon. "Testing the Ice: A True Story About Jackie Robinson." Scholastic Inc., 2009
Gutman, Dan. "Honus and Me: A Baseball Card Adventure."Avon Books, 1997.
Ritter, Lawrence S. "Leagues Apart: The Men and Times of the Negro Baseball Leagues." Morrow Junior Books, 1995.
Civil War
Chambers, Catherine. "All About Maps." Franklin Watts, 1998.
Moore, Kay. "If You Lived at the Time of the Civil War." Scholastic, 1994.
Murphy, Jim. "The Boys' War: Confederate and Union Soldiers Talk About the Civil War." Clarion Books, 1990.
American Inventors
Adler, David. "Thomas Alva Edison: Great Inventor." Holiday House, 1990.
Parker, Steve. "Alexander Graham Bell and the Telephone." Chelsea House, 1995.
Hays, Wilma Pitchford. "Samuel Morse and the Electronic Age." Watts, 1966.
Maps
Bacon, Josephine. "The Doubleday Atlas of the United States of America." Doubleday, 1990.
Clouse, Nancy L. "Puzzle Maps USA." Henry Hold and Co., 1990.
Glickman, Jane. "Cool Geography." Price Stern Sloan, 1998.
National Parks
Duncan, Dayton and Ken Burns. "The National Parks: America's Best Idea." Knopf Doubleday, 2009.
Kent, Deborah. "Yellowstone National Park." Children's Press, 1994.
Knowlton, Jack. "Maps and Globes." Children's Press, 1997.
Contests
Winners: Letters About Literature
"Dear L. M. Montgomery,
One of the greatest influences from books I've read this year came from your book Anne of Green Gables. Anne's knack for turning ordinary things into extra ordinary things caught my eye. She is clever, fun-loving, creative, determined and occasionally a little bit absentminded. All of these qualities remind me of me and helped me realize that a little bit of romance, or imagination should always be a part of all of us, and can brighten up many an unpleasant day....