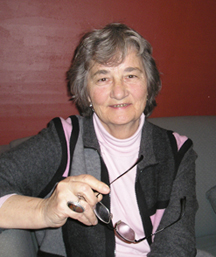 Katherine Paterson did not always want to be a writer. She confesses, "When I was 10, I wanted to be either a movie star or a missionary. When I was 20, I wanted to get married and have lots of children."
In between dreams, Paterson studied at King College in Bristol, Tenn., where she spent the majority of her time reading English and American literature. She also taught at a rural school in Northern Virginia, where, she explains, "Almost all my children were like Jesse Aarons," a character in her book "Bridge to Terabithia."
Pursuing her missionary dream, Paterson studied Bible and Christian education in graduate school in Richmond, Va., and hoped to be a missionary in China. But as Paterson describes, "China was closed to Americans in 1957, and a Japanese friend urged me to go to Japan instead."
Paterson then spent four years happily living and working among the Japanese - with whom she thought she would spend her life. "But when I returned to the States for a year of study in New York, I met a young Presbyterian pastor who changed the direction of my life once again." They married and soon Paterson fulfilled her dream of having lots of children.
It was then that she eventually began writing. A church friend took her to a creative writing course—and after some time the novel she wrote in that course was published. Paterson's books have earned her two Newbery medals, for "Bridge to Terabithia" (Harper) and "Jacob Have I Loved" (Crowell); two National Book awards, for" The Master Puppeteer" (Crowell) and "The Great Gilly Hopkins" (Harper); a Boston Globe-Horn Book Picture Book Award for "The Tale of the Mandarin Ducks" (Lodestar); and many other accolades. Her most recent books are "Bread and Roses, Too" (Clarion), which won The Christopher Medal, and "The Light of the World" (Arthur A. Levine). She is the 1998 recipient of the Hans Christian Andersen Medal and was designated in 2000 a "Living Legend" by the Library of Congress. In 2006 she won the Astrid Lindgren Memorial Award from Sweden, and in 2007 she became the NSK Neustadt Laureate.
She is a vice president of the National Children's Book and Literacy Alliance . Katherine Paterson's most recent book is "The Day of the Pelican" (Clarion, 2009).