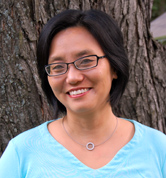 Linda Sue Park is the author of "A Single Shard" (Houghton), which was awarded the prestigious Newbery Medal by the American Library Association in 2002 for the most distinguished contribution to American literature for children. She has written several other books for young people, including the Jane Addams Peace Prize honor book, "When My Name Was Keoko," and the Chicago Tribune Young Adult Literature award title, "Project Mulberry" (both Clarion).
Her most recent books are "Tap Dancing on the Roof" (Clarion/Houghton), a collection of poetry; "Click" (Clarion/Houghton), a collaborative novel; and "Keeping Score" (Clarion/Houghton). Due out in 2010 are Book No. 9 of "The 39 Clues" series (Scholastic) and the middle-grade novel "A Long Walk to Water" (Clarion/Houghton).
The daughter of immigrant parents, Park draws on her Korean ancestry for much of her work. A childhood love of the public library has led her to consider herself a reader first and a writer second. Linda Sue Park now lives with her family in Rochester, N. Y. You can read her blog at http://lsparkreader.livejournal.com .
Linda Sue Park is a member of the board of the National Children's Book and Literacy Alliance .