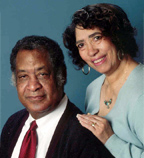 Fredrick and Patricia McKissack, as a team, have written more than 50 books for young readers, including picture books, beginning readers, information books and biographies. Their book A Long Hard Journey: The Story of the Pullman Porter (Walker and Company) was awarded both the Coretta Scott King Award and the Jane Addams Peace Award. Patricia McKissack's picture book Mirandy and Brother Wind (Random House Children's Books) was awarded a Caldecott Honor Medal. Patricia and Fred McKissack feel strongly that all young people need good literature by and about African-Americans and have stated a dual goal of improving the self-image of African-American children and of encouraging an open attitude in all children toward cultures different from their own.
Before becoming a full-time writer, Patricia worked as a teacher and then as an editor of children's books. "My career as a teacher helped me recognize what books were needed and what children enjoyed reading; my career as an editor taught me how to develop an idea. After teaching for nine years and editing for six, I felt I was ready to launch my writing career.
Fred worked first as a civil engineer for the city of St. Louis and the U.S. Army, and later owned his own general contracting company in St. Louis. Now he devotes his time to the family business, All-Writing Services.
And just how does the collaboration process work? "There is no magic formula," Fred says. "Pat and I talk all the time." "After talking through a project," Pat continues, "We outline it. Then Fred does most of the digging and the research, and I write it up on the computer and run off a hard copy. Fred fact-checks and refines it, and then gives it back to me to make his changes and any more of my own." "Then we run off another hard copy and keep doing that until it satisfies us both," Fred adds.
This collaboration has led to the publication of several award-winning titles, including their 2003 Coretta Scott King Honor Book, Days of Jubilee (Scholastic Inc.). The end of slavery is one of the most important events in the history of the United States, but there was not one single day when all of the slaves were freed. The McKissacks drew from slave narratives, letters and diaries to document the days, weeks and years leading to freedom.
They were very excited about their collaboration Black Hands, White Sails: The Story of African-American Whalers (Scholastic Inc.), a 2000 Coretta Scott King Honor Book. "We've written extensively about slavery in America, but I never realized how important free black sailors were to the Underground Railroad and to the abolitionist movement. They've helped in more ways than we can imagine."
The research for Christmas in the Big House, Christmas in the Quarters (Frontline Books), took the McKissacks on a writers' treasure hunt through the states of Virginia, West Virginia and Tennessee. "We visited and studied the interior designs of the Shirley Plantation and the Berkley Plantation, homes of former presidents and Colonial Williamsburg and Harpers Ferry in West Virginia. We searched for Christmas stories, recipes, songs, games, toys and dances. Many people helped us, and we are very grateful to them.
Patricia has written several novels on her own. "When I'm writing fiction, I think the book through first. I walk around with a manuscript in my head a year or sometimes longer, until I have very clearly in my mind a beginning, a middle and an end. This doesn't mean that I won't change an ending or a setting or even a central character, but I can't work until I know where I'm going."
Fred and Pat McKissack live in Chesterfield, Missouri, a suburb of St. Louis.