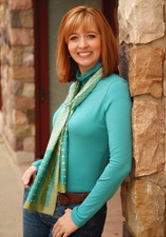 Shannon's mother says she was a storyteller from birth, jabbering endlessly in nonsensical baby talk. Once she could speak, she made up stories and bribed younger siblings to perform them in mini-plays until, thankfully, an elementary school teacher introduced her to the wonder of written fiction. At age 10, she began to write books, mostly fantasy stories in which she was the heroine.
She continued to write secretly for years while pursuing acting in television, stage and improvisational comedy. After detours studying in Mexico, the United Kingdom and a year and a half as an unpaid missionary in Paraguay, Shannon earned a bachelor's degree in English from the University of Utah. She was finally forced out of the writers' closet when she received her master's in Creative Writing from the University of Montana.
The Goose Girl, her critically acclaimed first book, is an ALA Teens' Top Ten and Josette Frank Award winner. Enna Burning and River Secrets are companion books to Goose, continuing the Bayern books series. Princess Academy is a Newbery Honor Book and a New York Times best-seller. Book of a Thousand Days, her newest fairy tale retelling, received a CYBILS award. Austenland, a romantic comedy, was her first book for adults. The Actor and the Housewife, her second book for adults, was published in June 2009. She and her husband are working on a series of graphic novels, the first of which, Rapunzel's Revenge, was selected by "Today's" Al Roker for Al's Book Club for Kids. Her other 2009 book is Forest Born, for young adults.
Shannon makes her home near Salt Lake City, Utah, with her superhuman husband, their indomitable toddler, stunning baby girl and their pet: a small plastic pig.
2012: Princess Academy: Palace of Stone (Bloomsbury USA Childrens)