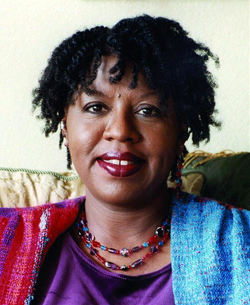 Nikki Grimes does not consider herself a bona fide storyteller, but, as she told an audience at the Library of Congress, she is happy to own the title "poet." Born and raised in New York City, Nikki began composing verse at the age of 6 and has been writing ever since.
A New York Times best-selling author and prolific artist, she has written many award-winning books for children and young adults. Her works include the novels "Bronx Masquerade" (Dial), winner of the 2003 Coretta Scott King Author Award; "Jazmin's Notebook" (Dial), a Coretta Scott King Honor Book and Bank Street College Book of the Year; "The Road to Paris" (Penguin), another Coretta Scott King Honor Book; the popular poetry collections "Danitra Brown, Class Clown," "Danitra Brown Leaves Town" (HarperCollins) and "Meet Danitra Brown" (Lothrop), an ALA Notable and Coretta Scott King Honor Book; "Hopscotch Love" (Lothrop); "Oh, Brother" (Greenwillow); "What Is Goodbye?"(Hyperion); "Talkin' About Bessie," the 2003 Coretta Scott King Illustrator Award winner and Author Award honor book; "Aneesa Lee & the Weaver's Gift," an American Bookseller Pick of the List (Lothrop); "From a Child's Heart" (Just Us Books); "A Dime a Dozen; My Man Blue" (Dial); "Come Sunday" (Eerdman's), an ALA Notable book; "At Break of Day" and "When Daddy Prays" (Eerdman's). Other works include "Stepping Out with Grandma Mac," a Notable Social Studies Trade Book; and "Shoe Magic" (Orchard); "A Pocketful of Poems" (Clarion); "Wild, Wild Hair" (Scholastic); "Portrait of Mary" (Harcourt Brace), a work of adult fiction; and NAACP winner "Barack Obama: Son of Promise, Child of Hope" (Simon & Schuster).
In addition to her work for children, Nikki Grimes has written articles for such magazines as "Essence," "Today's Christian Woman," "Book Links" and "Image, Journal of Arts & Religion."
An accomplished and widely anthologized poet of both children's and adult verse, Grimes has conducted poetry readings and lectures at international schools in Russia, China, Sweden and Tanzania, while short-term mission projects have taken her to such trouble spots as Haiti.
During the 1970s, Nikki co-produced and hosted "The Kid's Show" on WBAI-FM in New York. Later, during a six-year stint in Sweden, she hosted a radio program for immigrants, "Grunslöst," and another for Swedish Educational Radio.
In 2005, Nikki Grimes was awarded the Golden Dolphin Award by the Southern California Children's Book Association, recognizing her body of work. And in 2006 she was awarded the NCTE Award for Excellence in Poetry for Children.
Her latest work is "Make Way for Dyamonde Daniel" (Penguin Group).
Nikki Grimes is a member of the board of the National Children's Book and Literacy Alliance. (www.thencbla.org (external link))
2009: Make Way for Dyamonde Daniel (Putnam)
2020 CCBC Choices
2011-2012 Pennsylvania Young Readers Choice master list
2011-2012 Maud Hart Lovelace Award nominee
2012-2013 Massachusetts Children's Book Award nominee
Read on Wisconsin selection
Scholastic Book Club selection
2009: Rich: A Dyamonde Daniel Book (Putnam)
2010 NCTE Notable Book
2010 CCBC Choices
2011-2012 RIF Macy's Multicultural Collection of Children's Literature
Scholastic Book Club selection
2009: Voices of Christmas (Zondervan)
2010: A Girl Named Mister (Zondervan)
2010: Almost Zero: A Dyamonde Daniel Book (Putnam)
Horace Mann Upstanders Book Award
Chicago Public Library Best Book
2011: Planet Middle School (Bloomsbury)
NAACP Image Award nominee, Outstanding Literary Work, Youth/Teen
Bank Street Best Children's Book of the year
Junior Library Guild selection
Scholastic Book Club selection
2012: Halfway to Perfect: A Dyamonde Daniel Book (Putnam)