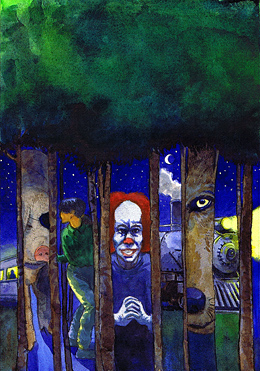 Enlarge
The Exquisite Corpse Adventure

Episode 26

Hear it (MP3) 14:50
Contributed by: M. T. Anderson
Illustration by: James Ransome
Episode 26
"The Final Scramble"
By M. T. Anderson
It was a terrible and frantic night in those woods. The wind blew through the trees. It smelled of sulfur . . . . Or eggs. The trees tossed back and forth, as if whisking an omelet in the thick, yolk-scented air.
On the one side of the woods, the two twins scampered through pines toward Pirandello's shack. They were searching for their interstellar pig protector. And on the other side of the wood, a motley band wandered through poplar trees: a witchy gypsy, a pirate named Angel, and a bobble-headed robot riding on a circus elephant. They too were searching for their friends – for the twins, the pig, the whole lot.
And in the middle of the woods, in The Grand Opening's storeroom, tides of spattery, splattery, batter-y creatures thrashed against the door to their world. The creatures had hoped that Nancy and Joe could be tricked into opening the door. Now, as a result of the timely intervention of that clever porker Genius Kelly, the gloppy invaders had to beat the door down. They frothed and splashed in waves against the barrier of epoxied coffins.
And in another part of the wood, all the Eggy-Thingys in their costumes – gorillas, irritable elephants, suited wolves, and one angry clown – were beginning to come to themselves after having been dismissed by Angel's power. They were growling on walkie-talkies to their friends on the other side of the door. They were marching there to let their goopy friends into this world. For years they had prepared to invade through the holes that Alistair Sloppy had opened up. And now, this very night was the moment for the grand attack.
The Eggy-Thingys told each other dorky, dumb jokes about how the humans were soon going to submit to their rule – "Soon, the yolk will be on them!" they said, and, "I know! It really cracks me up!" And this was the most terrible thing of all: Even old, lame puns like this made them quiver and tremble with hideous, slurpy laughter, boiling with insane, hysterical giggles.
The future eggy rulers of the earth had an awful sense of humor. The trees rocked back and forth above them while they howled with laughter and with their own sense of future victory.
Meanwhile, Joe and Nancy hopped along paths, guided by marks Genius Kelly had left on the ground.
"You think . . ." huffed Joe, "that Genius Kelly has gone back to Pirandello's shack?"
"Yes!" said Nancy. "I think the door on Pirandello's shack – that's the door our parents are behind! That's where they are!"
"I hope you're right," said Joe. "They owe me ten years of back allowance."
They came over a rise and saw the shack in front of them. In the distance, the train tracks on tall trestles were outlined against the evening sky.
Genius Kelly was arguing with Pirandello.
"I am not paying you ten thousand dollars for your door."
Pirandello swung the door open and closed. It shut with a satisfying click. "Mmm," said Pirandello. "That is one great door. Let me just hear that click again." He was about to open it again, infuriatingly, when he stopped himself. "Oh, never mind. I can do it later, once you've left.
Because it's my door. Mine. And you can't use it unless you buy it for fifteen thousand dollars."
"Fifteen!" cried Genius Kelly.
"You don't appreciate what an incredible door this is," said Pirandello. "But I'm not going to sit here bickering with you, throwing pearls before swine. . . . Oh, sorry. Present company excepted."
Genius Kelly was exasperated. "We need that door! There's no time to lose!"
"You're telling me," said Pirandello, looking at his pocket watch. "There's a train scheduled to come through in ten minutes, and it's going to fly off that broken, bombed-out bridge you see up there if I don't signal the conductor to stop in time. So this is no time to haggle about money." He held out his hand. "Ten thousand dollars and we'll call it a deal."
"Please," said Nancy, "please, Pirandello! We just want to use the door! We don't even need to keep it when we've used it!"
"See? That's what that Orlando girl said about my gummi bears. Just going to use them, then she'd give them back when she was done with them." He shook his head. "I know, right?" He frowned. "I still miss her. But . . . but – like they say, where one door closes, another one opens. And in this case, the door that opens is mine, mine, mine."
Genius Kelly said, "This is ridiculous. You just found this door!"
"Finders keepers."
Nancy pleaded, "Let us use it for ten minutes."
"Losers weepers."
Genius Kelly said, "It's to save their parents!"
"You know my price."
"Too bad," said Joe. "Too bad – that it's not your door at all. And I can prove it."
The others stared at him. He smiled slyly and reached into his pocket. He pulled out the key that they'd found earlier – the key they were given by Angel, the magical pirate – the key Joe had fought a squid for on the sea floor. Joe said to Pirandello, "If it's your door, why is it that you can't lock it or unlock it? Why is it that I can, I bet? With this key?"
Pirandello sucked his teeth. "That key?" He realized he was beaten.
"This key."
Pirandello looked at the key. He looked at the door. He said, "Okay. Fifteen dollars. Yours for fifteen dollars."
"It's our door," Joe said.
Pirandello said, "Ten dollars. I want to buy a train ticket. I want to go find Orlando and offer her half the bag of gummi bears. To eat and then keep."
At this, Nancy's heart melted. "Oh, let's give him the ten dollars!"
"Orlando and I could be very happy in this shack," said Pirandello miserably. "Although it will be cold without a door."
"We'll leave the door when we're done with it," Joe promised. He walked to the door and inserted the key. It fit perfectly, of course. Joe stared at the silver knob. He looked at his sister, his eyes round with awe.
"When you turn that key," said Nancy, "it will free our parents! I just know it!"
"This is very exciting," said Genius Kelly. "I'm tired of babysitting. I deserve some slops on the other side of the space-time continuum."
Joe started to unlock the door. Then he stopped. He held out his hand to Nancy. Nancy took it.
Together, brother and sister Sloppy turned the key in the lock of the door. They heard the tumblers tumble. They heard the sneck unsnick.
And nothing happened. The door just unlocked.
They opened it. They saw Pirandello's cot. Everyone stared in dismay at the inside of the hut. The kids were dismayed because their parents weren't there on the other side. Pirandello was dismayed because he wished he'd cleaned up his socks before he had guests.
Nancy slumped. "Oh, no," she said. "It didn't do a thing! It's not a special interdimensional door at all!"
"But the key fit!" Genius Kelly protested. "Your parents should be here, dragging you away from porcine day-care and off into the sunset – which is happening very picturesquely behind that ruined railroad trestle!"
"Yes," said Pirandello. "That railroad trestle. I do have to pop along and make sure that the train that's coming in a few minutes doesn't—"
"This is terrible!" said Nancy. "What do we do?"
Joe stewed. "Wait," he said. "Remember that vision that Sybil Hunch had in her crystal ball? She saw the key being turned in the door – by—"
"Yes!" said Nancy. "By – by—"
"Roberta the Robot," said Roberta the Robot, riding into the clearing on Hathi. She rattled atop the elephant. Angel and Sybil Hunch ran alongside. Sybil cackled with delight to see the children again. Hathi trumpeted. And Roberta said, "Pip pip. I believe you're looking for me?"
"Roberta!" Nancy exclaimed. "You're just in time!"
The robot slithered down the trunk of the friendly elephant. She clanked over to the door.
"Here you go, miss," said Joe, handing her the key. Sometimes – when it mattered – Joe was very polite.
"And so, ten years later, I fulfill my purpose," said Roberta.
She shut the door. She stuck the key in the lock. She turned the key. She tugged at the knob.
And the door opened while staying closed. That's how it looked – the door doubling somehow, like two doors, in two worlds. One was solid and one was transparent. One was opened and the other was closed.
And standing there, in the doorway, with their ears pressed to the spot where the door had been, were Alistair and Libby Sloppy. They were older, now, than they had been. Their hair was a little gray and their faces were a little lined. Behind them was a world of swirling colors.
"Children!" they gasped. "Joe! Nancy!" They rushed out, with open arms. "You know who we are, right?"
It had been ten years, but now the long separation was over. There were embraces all round. Daddy Sloppy hugged his daughter, and Libby Sloppy hugged her son. Then they switched, and Joe Sloppy hugged his father, while Nancy Sloppy slung her arms around her mom. They hardly knew one another – and yet, here they were, a family, together once more.
This would be a highly touching scene – and you would hear lots about how they all told each other stories of life in the carnival caravan, recounting tales about the days spent learning the tight-rope walk and the nights spent jumping from striped poles, or, for the Sloppy parents, the endless days trapped outside of time and space, listening to the sloshing of Eggy-Thingys trying to squidge their way into our world – but a shadow fell across this first embrace.
It was the shadow of wolves.
They arose around the little group.
"The wolves!" said Nancy. "Oh, Mom, Dad, by the way, I'm becoming part wolf, incidentally."
Her father muttered, "Next time we leave, we have got to find a better day-care situation."
Nancy said, "Don't worry. I think being part wolf will make me a better circus act."
Libby Sloppy put her hand on her forehead. "You say you don't mind becoming a werewolf because you'll do better in the circus." She sighed. "We have not been very good parents. We have a lot of making up to do . . . and a lot of catching up to do."
The wolves growled to Nancy.
Nancy listened. "They say. . . . They say that the Eggy-Thingys in costumes have gone and unlocked the door in The Grand Opening. The others who were waiting are pouring through. They'll be here any minute!"
Another wolf growled some more.
"Oh," said Nancy to Pirandello. "And there's some other news. This wolf, Virginia, says she saw your friend Orlando. Orlando's still in the woods."
"So it's not all bad news!" said Pirandello, delighted. He threw his arms around Virginia Wolf. "If life gives you lemons, make lemonade!"
"Or," said Alistair Sloppy sharply, "if life gives you eggs, make an omelet. They'll be here any second. Eggy-Thingys. Thousands of them."
"Oh, yeah," said Pirandello. He looked at his watch. "And there's a circus train due to come through any time . . . and it's going to fall off the ruined track if I don't stop it in time." He looked worried.
"A circus train?" said Joe. "What do you mean?"
"The Sick & Tired Circus is going to be crossing that broken bridge in minutes."
"The Sick & Tired Circus!" said Nancy. "That's our circus!"
"The train's in danger! The Eggy-Thingys are coming!" said Libby Sloppy. "What will we possibly do?"
It was a bad night to re-enter the world after ten years of floating outside of time and space.
And so night fell.
On one side of the forest, a train rushed through the night. A train filled with lions and elephants and clowns. And on the other side of the forest, leaping and frothing, yellow and sticky, hurling their unfried and unfriendly splattering selves through the underbush, a tide of mucusy monsters stormed into the world.
And, gathered around a hut, near a broken train trestle, a few friends stood between an invasion of eggs and the fate of the world.
In a case like this, there was no sunny side up.
Audio recordings provided by National Library Service for the Blind and Physically Handicapped
Previous Episode | Next Episode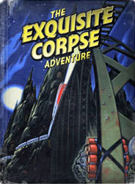 Enlarge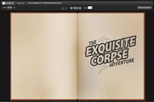 The National Children's Book and Literacy Alliance and the Butler Center for Children's Literature at Dominican University have developed a companion educational resource center (external link) to support "The Exquisite Corpse Adventure."