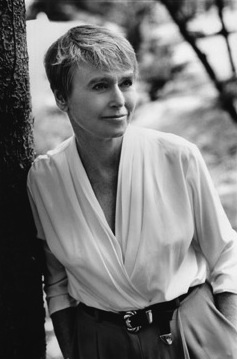 Susan Cooper is three-quarters English and one-quarter Welsh, and she had a noisy World War II childhood in Britain, much of it spent in air-raid shelters. She says she knew she was doomed to be a writer when she found she was never going to be more than an OK pianist, and when she got over her crush on the physics teacher. Besides, she'd written her first book when she was 10.
"It was a very tiny fantasy. My favorite uncle found it and read it, and I was so embarrassed that I burst into tears and tore it up. But I was a total bookworm, and I ended up at the University of Oxford doing a degree in English. Though two of my lecturers there were called J.R.R. Tolkien and C.S. Lewis; I then spent seven down-to-earth years in London as a reporter and feature writer for the"Sunday Times." In my spare time, though, I wrote a children's fantasy called "Over Sea, Under Stone."
"Then I married an American and came to live in the USA, where I inherited three teenage stepchildren and eventually had two babies. I was homesick for years, which perhaps is why I discovered, one day, that I wanted to write a sequence of five very English (and Welsh) fantasy novels - with "Over Sea, Under Stone," which I'd never thought would have a sequel, as the first of the five. So I sat down and wrote an outline of the sequence, the last page of the very last book, and then, over a period of six and a half years, four books called "The Dark Is Rising," "Greenwitch," "The Grey King" and "Silver on the Tree." To my astonishment, the first of these four was runner-up for the Newbery Medal and the third actually won it. And life changed."
Since her classic "Dark Is Rising" sequence, now translated into 18 languages, Cooper has written picture books like "The Silver Cow," chapter-books like "The Magician's Boy," middle-grade books like "The Boggart" and time-travel fantasies like her most recent novel, "Victory." Her television screenplays — including "The Dollmaker," for Jane Fonda — have won a Christopher Medal, a Humanitas Award and two Emmy nominations, and with her late husband Hume Cronyn she wrote the Broadway play "Foxfire."
All her children's books have been published in the United States by McElderry Books (Simon & Schuster), and her new book about the singer-director John Langstaff will be published by Candlewick Press in 2011. She lives in Massachusetts, on an almost-island in a coastal salt marsh, near her two children and four grandchildren and is hoping one of her "Exquisite Corpse" co-authors will come up with a way to terrify the deer who paddle over and chew up her garden.
Susan Cooper is a member of the board of the National Children's Book and Literacy Alliance (www.thencbla.org (external link)).
2011: The Magic Maker: A Portrait of John Langstaff, Creator of the Christmas Revels (Candlewick)
2012: Margaret A. Edwards Award for Lifetime Achievement
2013: Ghost Hawk (McElderry)