Open a book and you open the door to a new world. The Library of Congress welcomes children, teens and adults to the Young Readers Center, a place especially designed for young people.
Kids! Join the YRC Presidential Challenge
Send us your Video and Be President for a Day
(or at least for a minute!)
Young Readers Center Hours Open to the Public
Mon — Saturday 9:00am -4:30pm
Video from the Grand Opening celebrating the Saturday schedule
Young Readers Center Story Time Every Friday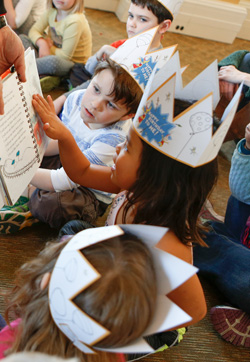 The Young Readers Center (Jefferson Building, Room G29) will continue to offer Story Time for infants and toddlers every Friday (except holidays) starting at 10:30 a.m.
NOTE: Due to an occupancy review of the Center by the Library of Congress Safety Services Office, we are required to limit the number of participating children and adults to 50. Free admission stickers will be distributed on a first-come, first- served basis beginning at 10 a.m.
Thank you for understanding and we look forward to your participation.
Please check this website or call the YRC at 202-707-1950 for any changes to this schedule.
February Film Screening Pre-Parties with the YRC
Visit the Young Readers Center before the noontime screenings of Beauty and the Beast on Saturday, February 11th, The Nightmare Before Christmas on Saturday, February 18th and Batman: Mask of the Phantasm on Saturday, February 25th, for fun film-related activities with books and crafts. Wear your favorite costume!
Film screenings are held at Noon in the Pickford Theater, Third Floor, James Madison Memorial Building. Find more details about the film screenings here. Free, tickets required. In the event that advance tickets are no longer available, a standby queue will form 30 minutes prior to the screening time in the Pickford Theater lobby.
NOTE: Families who visit the Young Readers Center prior to the film screening on Saturday, February 11th, 18th and 25th, will be escorted to the film screening in the Madison Building by Library staff.
Young Readers Center Introduces a Teen Board
This year's program is comprised of three D.C. area schools: Cesar Chavez Public Policy Charter School, Stuart Hobson Middle School, and Richard Wright Public Charter School, with a total of 39 students. School advisors from each of these schools have selected these students and will monitor their book selections. Students were chosen because of their interest in reading and their demonstrated leadership skills. We are pleased to have them in this program.
Teens on the board have access to newly published and advanced copies of books written for young adults. At monthly meetings, which are attended by the school liaisons, these teens select "Advanced Review (or Reading) Copies" (ARCs) of soon-to-be-published books based on their interests and librarian feedback. They then spend the next month reading these books and writing thoughtful reviews, utilizing critical analysis and including their personal reactions. At subsequent meetings, these books are discussed, including plot and character development, literary genres, and trends in teen/young adult literature. These discussions are lively because teens feel passionately about their books. For more information about Teen Board contact Karen Jaffe at kjaf@loc.gov.
Below are some excerpts from their current reads:
Roseblood
by A.G. Howard. Abrams, Publication Date of Jan. 2017. Review by Zahkura, Cesar Chavez Capitol Hill Public Charter School.
If you liked The Phantom of the Opera, this is the book for you. When Rune sings, everyone listens with enthusiasm. But singing only weakens her.
Reviewer Zahkura: "Loved the part when Rune got her powers under control! Can't wait to read another book by this author. Rune with the voice of an angel, but may be used for evil. I love the whole book."
Things I Should Have Known
by Claire LaZebnik, HMH, Publication date, March 2017. Review by Jae'la, Cesar Chavez Capitol Hill Public Charter School.
A story of autism, sisters and love. Reviewer Jae'la felt that it was okay, but it took a long time for something exciting to happen.
Radical
by E.M. Kokie, Sept. 2016, Candlewick. Review by Heaven, Richard Wright PCS. And Jackie, also R. Wright PCS.
Bex has a fascination with survivalist groups and guns and becomes involved with a local group that is both homophobic and racist. She starts to explore her sexuality and world view, but still longs to protect her family. From our reviewer Heaven: "The cover of the book made the story seem like a mystery. I for one really enjoy mysteries and that is why I chose this book."
From Jackie: "Bex has to take initiative to protect herself and her family. She struggles to find out who she is as a person, and it gets harder when she questions her sexual preference and also why she's trying to protect people that don't care about her."
Holding Smoke
by Elle Cosimano, Hyperion, 2016. Review by Varonica, Richard Wright PCS.
"Smoke" is imprisoned after rebounding from a severe beating from his father, and getting into a fight with a fellow student, which results in the student's death. Smoke was himself in a near death condition, which results in his ability to move almost as a ghost, in and out of his prison and into the community. From reviewer Varonica, "The cover gives a mysterious vibe, and draws you into the book."
The Crystal Ribbon
by Celeste Lim. Scholastic, Jan. 2017. Review by Zahkura, Cesar Chavez Capitol Hill Public Charter School.

Fantasy mixed with historical fiction tells the story of Jing, a young female from a poor family in medieval China. Jing is married at age 11 to a 3 year old boy. Her life does not improve when she is sold to become a courtesan. From Zahkura, "I liked how it showcased the hardships of a poor female in ancient China. Never a dull moment in the story."
Three Truths and a Lie
by Brent Hartinger. Simon and Schuster, 2016. Review by Ja'Kayla, Richard Wright PCS.
Four teens, dark woods, a secluded mountain house and lots of suspense.
Reviewer Ja'Kayla: "The book is about teen relationships, drama and lots of suspense. Cover has a mysterious vibe."
Lifers by M.A. Griffin
by M.A. Griffin. Scholastic, Jan, 2017 publication date. Review by Terrell, Richard Wright PCS.
Preston, a British teen from Manchester, goes searching for missing friend Alice. His path takes him to a research center conducting mysterious research on accessing an alternate dimension. This dimension turns out to be a prison for teens. Reviewer Terrell: "The cover will grab the reader's attention, and the book will have readers on their heels."
Frost Blood
by Elly Blake. Little Brown, Jan 2017 publication date. Review by Tysean, Richard Wright PCS.
Can the kingdom ruled by the horrific Frost King be saved by a young girl? Yes if the girl is Ruby, who has fire running through her veins.
Reviewer Tysean: "The first part was a little slow, but then because of fascinating characters, it became more interesting to read. The cover looks like it will be a scary and interesting read."
Holding Up the Universe
by Jennifer Niven. Knopf, 2016. Review by Charlotte, Julius Hobson.
Jack has prosopagnosia, a condition that results in the inability to recognize faces. He hides his condition well until he has a run in with Libby, who was formerly America's Fattest Teen. From reviewer Charlotte, "This book shows that people aren't always as they seem, and that the inside matters. The book was super awesome and unpredictable (sort of)."
Max
by Sarah Cohen-Scali, Roaring Brook, March, 2017 publication date. Review by Jamie from Julius Hobson.
Part fantasy, part historical fiction, the story of Max, born under Nazi "Lebensborn" program during World War II. The goal of the program was to breed pure Aryan babies to be the future leaders of Germany. Max falls in love with a young Jewish girl. Not to give it away, but reviewer Jamie says "I am in a love/hate relationship with the ending."
Young Readers Center
Thomas Jefferson Building
Room LJ G29 (ground floor)
10 First St. S.E.
Washington, DC 20540
Hours:
Monday through Saturday
9 a.m. — 4:30 p.m.
(closed most federal holidays)
(202) 707-1950