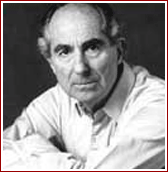 Philip Roth (1933- )
Philip Milton Roth was born in Newark, N.J., the setting for much of his fiction. He graduated from Newark's Weequahic High School in 1950 and went on to earn a degree in English from Bucknell University and an M.A. in English literature from the University of Chicago.
In Chicago, Roth met Margaret Martinson, whom he later married. They separated in 1963, and Martinson died in a car crash in 1968. Her death greatly affected Roth and his writing. She inspired the characters in "When She Was Good" (1967) and "My Life as a Man" (1974).
Roth's first book, "Goodbye, Columbus" was published in 1959 to immediate literary success. It won the National Book Award the following year. Roth then published "Letting Go" (1962) and "When She Was Good." The novel that followed, "Portnoy's Complaint" (1969), caused a sensation and received critical as well as commercial success.
In 1995, Roth again won the National Book Award, for "Sabbath's Theater," which features a lecherous former puppeteer.
Roth's work is often semiautobiographical, as evidenced by characters such as Nathan Zuckerman and Alexander Portnoy. Yet his novels also focus on social issues, such as the Jewish-American experience, racism, war and politics.
In May 2006 "The New York Times Book Review" published the results of a survey the publication did of several hundred important writers, editors, critics and other literary types asking them to name the "single best work of American fiction published in the last 25 years." Roth's novels appeared six times among the list of 22: "American Pastoral," "The Counterlife," "Operation Shylock," "Sabbath's Theater," "The Human Stain" and "The Plot Against America." According to A.O. Scott of "The New York Times," "If we had asked for the single best writer of fiction of the past 25 years," the winner would have been Roth.
A Selected Bibliography of the Work of Philip Roth
Zuckerman Novels
"The Ghost Writer" (1979)
"Zuckerman Unbound" (1981)
"The Anatomy Lesson" (1983)
"The Prague Orgy" (1985)
"The Counterlife" (1986)
"American Pastoral" (1997)
"I Married a Communist" (1998)
"The Human Stain" (2000)
"Exit Ghost" (2007)
Other Novels
"When She Was Good" (1967)
"Portnoy's Complaint" (1969)
"The Breast" (1972)
"The Great American Novel" (1973)
"My Life as a Man" (1974)
"Operation Shylock" (1993)
"Sabbath's Theater" (1995)
"The Plot Against America" (2004)
"Everyman" (2006)
"Indignation" (2008)
"The Humbling" (2009)
Other Works
"Goodbye, Columbus" (1959)
Awards
1960 National Book Award for "Goodbye, Columbus"
1986 National Book Critics Circle Award for "The Counterlife"
1991 National Book Critics Circle Award for "Patrimony"
1994 PEN/Faulkner Award for "Operation Shylock"
1995 National Book Award for "Sabbath's Theater"
1998 Pulitzer Prize for Fiction for "American Pastoral"
1998 Ambassador Book Award of the English-Speaking Union for "I Married a Communist"
1998 National Medal of Arts
2000 Prix du Meilleur Livre Etranger (France) for "American Pastoral"
2001 PEN/Faulkner Award for "The Human Stain"
2001 Gold Medal in Fiction from "The American Academy of Arts and Letters"
2001 W.H. Smith Literary Award for "The Human Stain"
2002 National Book Foundation's Award for Distinguished Contribution to American Letters
2002 Prix Medicis Etranger (France) for "The Human Stain"
2003 Honorary Doctor of Letters degree from Harvard University
2005 Sidewise Award for Alternate History for "The Plot Against America"
2005 James Fenimore Cooper Prize for Best Historical Fiction for "The Plot Against America"
2006 PEN/Nabokov Award for lifetime achievement
2007 PEN/Faulkner Award for "Everyman"
2007 PEN/Saul Bellow Award for Achievement in American Fiction