The Technicolor Adventures of Catalina Neon

Hosted by Juan Felipe Herrera, U.S. Poet Laureate, 2015-

About the Project
Hello! I'm Juan Felipe Herrera, the 21st U.S. Poet Laureate. Welcome to "The Technicolor Adventures of Catalina Neon," a bilingual, illustrated poem created with the help of artist Juana Medina ... and you. Elementary school librarians, get your second and third grade students "neonized" and help us tell Catalina's story to the world!
Here's how it works: Juana and I will create the initial chapter, but that's only half the story. At the end of the chapter, we will include a prompt and give you a month to tell us where to go next. We ask that you and your second or third grade students read the prompt, talk about it, imagine what could happen next, and collaboratively help write the next chapter of Catalina's adventure.

First Chapter – "Meet Catalina Neon and Her Doggy, Tortilla"


Hear it


Second Chapter – "Galactic Poetry Cosmic Library"


Hear it
Respond to Prompt – "What is the story behind the crashed UFO and the Galactic Poetry Cosmic Library? Give us specifics, and then take us to the top of the stairs!" (Please respond by Thursday, December 15, 2016.)
We thank this chapter's contributors:
Juana and I will select a submission as a starting point for the next chapter—and you and your classes will again be invited to write the next chapter of the adventure. This process will continue five times until June 2017, when Catalina Neon's story will be complete!
What Happens Next?
Respond to prompt -"What is the story behind the crashed UFO and the Galactic Poetry Cosmic Library? Give us specifics, and then take us to the top of the stairs!" (Please respond by Thursday, December 15, 2016.)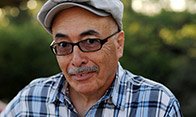 Juan Felipe Herrera, Photo credit: Blue Flower Arts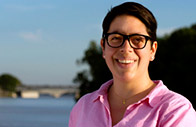 Juana Medina, Photo credit: Silvia Baptiste